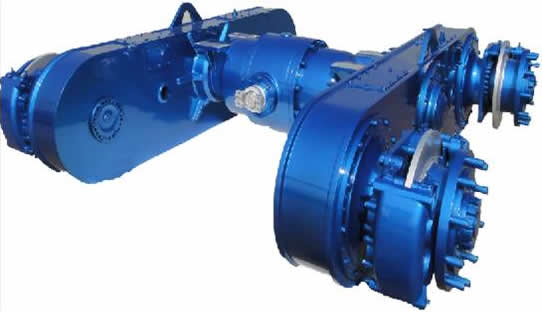 PY180 series motor grader front axle and drive rear axle are developed and produced by our factory according to market demand. It is applicable to PY180 grader, mainly supporting Shantui, Liugong, Chengdu Dahua, Yituo, XCMG and other main engine plants. The products have passed the National 500 hour intensive test with the main engine, and the quality is excellent in China.
Structural features:
1. Three-stage reduction transmission, stable and reliable output.
2. The balanced box structure improves the flatness of scraper operation of grader.
3. No spin anti-skid differential is selected to improve the trafficability of complex roads.
4. Strengthen heavy roller chain transmission, long service life.
5. Hydraulic caliper disc brake, fast, reliable and easy to maintain.
6. It is suitable for 160-200 HP grader.
主要连接尺寸: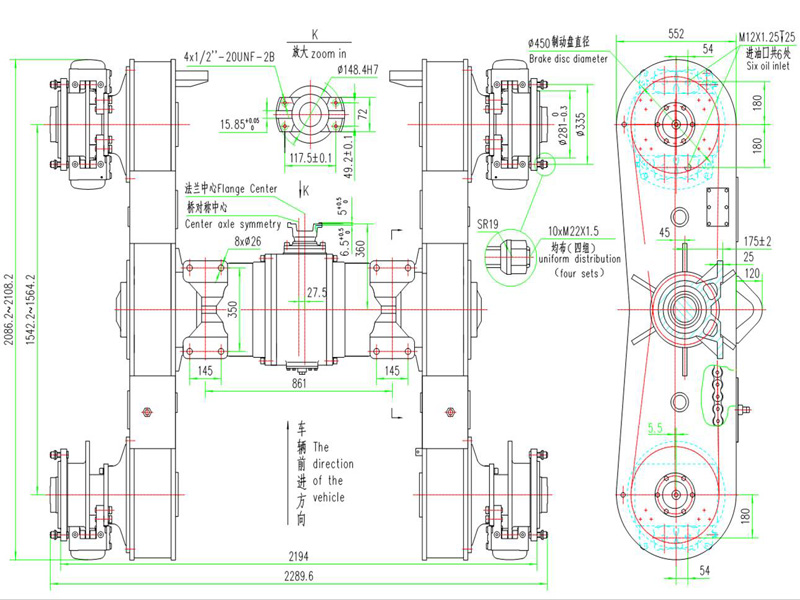 主要技术参数:
总传动比Total transmission Ratio

18.03

最大输入扭矩 Maximum input torque

6000N.m

最大输入转速

Maximum input rotate speed

3100r/min

额定桥荷 Rating load

12000Kg

制动油压Braking oil pressure

11MPa

单钳制动力矩Braking moment

13050N.m

制动钳排量Brake caliper capacity

8.8ml

驱动桥用油要求(API 分类)

Oil request for driving axle

(API standard)

GL-5:85W/90 齿轮油(-12℃以上使用)

GL-5:85W/90 Gear Oil(above-12℃)

GL-5:80W/90 齿轮油(-26℃以上使用)

GL-5:80W/90 Gear Oil(above-26℃)

制动钳用油要求

Oil request for brake

L-HL46液压油 L-HL46Hydraulic oil

寒区:L-HV46抗磨低凝液压油Cold region: L-HV46Wear resistant and low coagulation hydraulic oil
装配车型: